The Leading Magazine for Primary Educators
Discover the latest from the world of education
Win a School Visit from Ade Adepitan with his Book Ade's Amazing Ade-ventures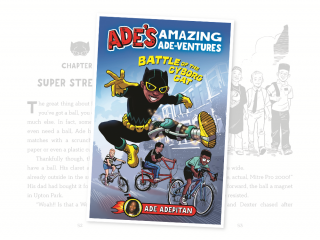 Posted: 18 May 2018
Print this page

Ade is the new kid on Parsons Road
He knows he should make an effort and make some friends but it's not easy when you look different to everyone else.
It's only when Ade sees off some bullies that Dexter, Brian and Shed realize who Ade really is: their new friend, part cyborg, part footballing genius and all time hero.
Over the summer, the boys' days are filled with adventure and laughter but the first day of school is not far away and things are about to change forever…

Ade moved from Nigeria to England with his family at a young age after suffering from polio which left him unable to use his left leg.
Based upon Ade's real-life experiences Ade's Amazing Ade-ventures uses a tale of football and friendship to examine some trickier themes.
With hints towards, immigration, racism and disability this humorous and uplifting story can be the basis of multiple class discussions on feelings and behaviour towards others.
Win a school visit from Ade Adepitan
Don't miss Ade Adepitan's schools competition where you could win a chance for him to come and visit your school!

Ade is giving you the opportunity to get him to come and visit your school where he will read from his new book Ade's Amazing Ade-Ventures: Battle of the Cyborg Cat as well as doing a Q&A session.
All you need to do is tweet or Instagram saying "I think @AdeAdepitan should read #Adeventures at my school because…" and tell us why you think Ade should come to your school.
The posts that Ade likes the most will be put into a hat where Ade will choose three winners. Good Luck!