The Leading Magazine for Primary Educators
Discover the latest from the world of education
Product review: Schofield & Sims Fractions, Decimals & Percentages
Reviewed by: John Dabell
KS: KS1, KS2
Contact: Visit Website
Print this page

A whole-school programme that provides unparalleled support for a mastery approach to teaching and learning
Errors, misconceptions and conceptual obstacles litter the maths terrain. Teaching fractions, decimals and percentages is not for the faint-hearted and requires not only resilience but expertise – these are tricky areas that are difficult to learn.
Maths concepts are organic in that children's efforts to make sense of them constantly change and evolve. This is why it is vital to select resources that can offer consistency, clarity and challenge, with an understanding of the learning process and children's misconceptions.
If you buy into a whole-school programme crafted by award-winning authors that know their stuff then you are on to a winner. Schofield & Sims Fractions, Decimals and Percentages is one such series because it has expertise running through its veins and takes children on a step-by-step journey towards mastery. These immensely affordable resources make a lot of maths sense if money is tight. They don't cut corners either. In fact, you are getting better quality in terms of content than many other resources 10 times the price.
The resources go from Y1-Y6 and offer complete coverage of the curriculum. It's about as close as you can get to a maths Tube map for fractions, decimals and percentages.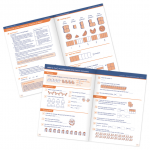 There are between 10 and 18 units in each year group and the teacher's guides give you precisely what you need to support deep and full understanding. That includes clear instructions, practical suggestions and a very clever 'Spot the mistake' section, which purposely focuses on common errors as teaching and learning points. There are also quick practice questions ideal for mini whiteboard use and to feed formative assessments. All answers are provided.
The pupil books are incredibly well structured and provide perceptive activities that mix the quick and straightforward with the practical and more challenging. There are also check-up tests, self-assessment opportunities and glossaries.
The authors don't hide the fact that the programme sets fairly challenging expectations for reading ability, so you will need to think carefully about whether these will help children flourish. The books are supported by superb additional resources that add considerable value yet can be downloaded for free. These include PowerPoints containing the visual elements from each unit and 'Go deeper' extension investigations for developing problem-solving and reasoning. There are also other resources such as a fraction wall and comparison chart that all help to make the seemingly impenetrable, penetrable.
At a glance
Six high-quality teacher's guides and six pupil books
Impressive full curriculum coverage with detailed and expertly written lesson plans
Accessible, fun and child-friendly pupil resources
Inexpensive school-wide resourcing with added extras
Upgrade if…
You are looking for a carefully engineered programme to help support a deep, confident and adaptable understanding of fractions, decimals and percentages, as well as ratio and proportion.
Pupil books cost £2.50 each, while the teacher's guides are £7 each (school prices). Find out more at schofieldandsims.co.uk.
Reviewed by John Dabell
Heaven percent
• Unpacks key ideas to develop full conceptual understanding
• Promotes both instrumental and relational understanding
• Illustrates the interconnected nature of maths
• Promotes critical thinking and fosters mastery
• Incredible quality and very affordable
More Pictures
Send to Kindle