The Leading Magazine for Primary Educators
Discover the latest from the world of education
BAKE FOR WISHES THIS AUTUMN!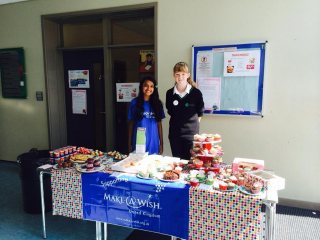 Posted: 26 Aug 2015
Print this page

.
Make-A-Wish® UK grants magical wishes to enrich the lives of children and young people fighting life-threatening conditions. They need your school's help this autumn to keep granting wishes.
When a child is diagnosed with a life-threatening condition, it has a huge impact on the whole family. The child is often going through gruelling treatments and sometimes serious operations, resulting in long periods away from their home and family.
A wish can range from being a princess for the day, to meeting a hero or going on a once-in-a-lifetime family holiday. Whatever the child's wish, it provides an escape from the reality of living with a life-threatening condition, creating memories that will last forever, whatever the future may hold.
Bake-A-Wish, Make-A-Wish's annual baking fundraiser, is a great way for you and your students to help. So grab your wooden spoons, bake up a treat and hold a bake sale or baking-themed day in your school!
Your baking will help desperately ill children like 17-year-old Chloe. Chloe was diagnosed with Von Hippel-Lindau syndrome, a condition that causes tumours to grow. Chloe has undergone brain surgery to remove a tumour, but sadly has them in her eyes and has been diagnosed with two more in her brain. The condition has been devastating for Chloe and her family; she's lost a lot of confidence and missed months of school.
Chloe loves clothes and shopping, so when she turned to Make-A-Wish, she wished for a confidence-boosting makeover. Chloe's mum Michelle said: "Chloe is very scared of the future and doesn't know what life will hold with regards to the tumours in her body. However, the wish has helped her live in the here and now, rather than worrying about what may happen to her."
There are 20,000 children and young people in the UK fighting a life-threatening condition and over 1,000 of them will turn to Make-A-Wish every year. You can help by heading over to make-a- wish.org.uk/bake where you can download everything you need to get involved in baking for wishes this autumn.
More Info
Website: www.make-a-wish.org.uk/bake
Email: .(JavaScript must be enabled to view this email address)
View More Photos