The Leading Magazine for Primary Educators
Discover the latest from the world of education
Royal Albert Hall Education presents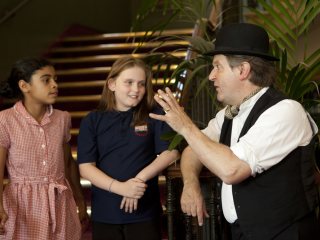 Posted: 01 Nov 2012
Print this page

THE VICTORIAN EXPERIENCE
A brand new interactive experience for Key Stage 2 children launching in September 2012
Take your class back in time with a unique look at the Royal Albert Hall through the eyes of the Victorians.
In the company of two costumed characters, your class will be taken on a fascinating journey through this impressive Victorian building, using its rich history to explore the Victorian age. Groups will take an entertaining and illuminating tour of the building, viewing the auditorium from one of the private boxes, exploring the different front of house areas and discovering what it would have been like to see a show here or work in the Hall when it first opened over 140 years ago. Additionally, children will take part in classroom-based interactive workshops which will include artefact handling, role-play and a glimpse in to the Royal Albert Hall's fascinating archive collection.
The sessions are delivered by professional actors and drama educators and offer an exciting and unique way of exploring National Curriculum learning objectives for History, Literacy and Geography. The Victorian Experience lasts 1 hour 45 minutes
The Victorian Experience costs £4.50 per child. Teachers and accompanying adults go free.
We are now taking school group bookings for these exciting new tours. For more information, date and to book your session for next term please visit royalalberthall.com, email .(JavaScript must be enabled to view this email address) or phone 020 7959 0558