The Leading Magazine for Primary Educators
Discover the latest from the world of education
Explore the Water Cycle in Fiction and Non-Fiction Books with Rain and The Rhythm of the Rain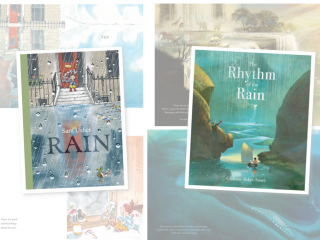 Posted: 23 May 2018
Print this page

From tiniest raindrop to deepest ocean, The Rhythm of the Rain is a breathtaking celebration of the water cycle.
It captures the remarkable movement of water across the earth in all its majesty.

Isaac plays in his favourite pool on the mountainside. As rain starts to fall, he empties his little jar of water into the pool and races the sparkling streams as they tumble over waterfalls, rush through swollen rivers and burst out into the vast open sea. "Where will my little jar of water go now?" Isaac wonders.

This stunning new non-fiction picture book from Greenaway medal-winner, Grahame Baker-Smith tells the story of Isaac and his little jar of water. With a soft step-by-step story, paired with stunning images, this book takes its reader through the whole water cycle showing just how far water travels and in how many different ways.
From river to rain and back again this book is the perfect way to introduce students to the water cycle. With the story of Isaac alongside the imagery of water scenes this text can be used in a classroom to explore the process of the water cycle in a visually engaging way.

After discovering the science of the water cycle in The Rhythm of the Rain why not get the creative juices flowing with the beautiful picture book Rain by Sam Usher.
Sam's beautiful illustrations, inspired by Quentin Blake, pair perfectly with his story of family adventure.
Join a young boy and his grandfather as they enjoy the rain… eventually.

Sam's heart-warming story of family and adventure resonates with everyone, as who doesn't want to jump in puddles? This is the perfect book to get the children talking and creating their own rainy day stories.

Follow Templar on Twitter at @templarbooks.