The Leading Magazine for Primary Educators
Discover the latest from the world of education
Discover 4 Captivating Learning Experiences in London that will Thrill your KS1 and KS2 Pupils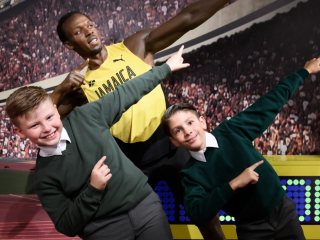 Posted: 22 Jun 2018
Print this page

Check out these amazing school trip opportunities from Merlin's Magical London
What could be more stimulating than learning about London's skyline while 135m above the River Thames, or exploring habitats by walking beneath the waves?
Imagine exploring the world of media by observing first-hand the way people interact with celebrity culture or teaching story construction by literally stepping into a live performance adventure…
These are real-life immersive learning experiences and school trip opportunities that are guaranteed to inspire, delight and enthuse your pupils' minds. The question is, which lesson will you choose to educate your students on first?
Read on to discover four captivating London-based learning experiences for KS1 and KS2 pupils.
DreamWorks Tours: Shrek's Adventure! London
Take learning beyond the classroom walls and into the Kingdom of Far Far Away. Primary pupils can join Shrek and his DreamWorks pals to discover how fairy tales are constructed.
They will learn how to plot stories with a beginning, middle and an end, while also exploring character development and performance. With Donkey as the tour guide, at DreamWorks Tours: Shrek's Adventure! London, a school trip is an exciting ride.
Coca-Cola London Eye
Book your classroom in the sky on-board the Coca-Cola London Eye. This is the Days to remember learning experience of a lifetime for KS2 pupils as they journey 135m above the Thames and observe London's iconic landscape.
Not only will they discover the city's geographical and historical features, they will also analyse London's changing architecture and its impact.
Madame Tussauds London
Grab your invitation to mingle with the world's most famous faces at Madame Tussauds London. Pupils will gain an invaluable insight into the media by exploring its purpose, audience and influence – from the modern-day selfie to the concept of fake news.
This is a unique opportunity to educate children in consuming news, particularly when using online sources and social media.
SEA LIFE London
It's time for primary pupils to travel through Pacific Ocean tunnels, tropical rainforests and even a shark reef to see the different habitats on planet Earth. A school trip to SEA LIFE London is an adventure that will include exploring life cycles and ecosystems, and learning how animals adapt to survive in their environments.
To find out more visit merlinsmagicallondon.com/schools.