The Leading Magazine for Primary Educators
Discover the latest from the world of education
Be A Part Of The Ripley's Believe It Or Not! Club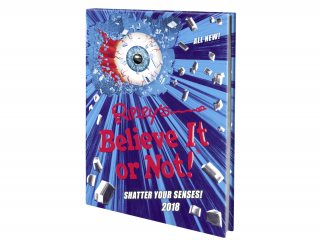 Posted: 15 Jun 2017
Print this page

Are you looking for fun and entertaining activities for your class next year? Then sign them up!
The Ripley's Believe It or Not! annual is published every September and contains 100% new strange-but-true content, including extraordinary stories, mind-boggling facts and amazing photographs – from the elephant who can play baseball, to the flowers that bloomed in space, to the weasel found inside the world's biggest computer, plus much more!
Perfect for kids aged 7-12, Ripley's is brilliant fun every year. To celebrate publication of the new annual in September, we are offering Ripley's Believe It or Not! Packs for classes that will include:
Strange-but-true Ripley's based activity sheets
A Believe it or Not! Quiz
Ripley's colouring in sheet
And much more throughout the academic year!

You can register your interest by emailing .(JavaScript must be enabled to view this email address) with the subject line 'Ripley's Club' and including your school's details and how many pupils there are in your class.
Packs will be delivered for the start of the new academic year.
Ripley's Day
Ripley's is perfect for Halloween. This year, why not celebrate by having a Ripley's Day and win a Trick or Treat Box for your class!
Ripley's is full of weird and wonderful stories – it is a great theme to build a day's activities around. Here are some suggestions:
Weird and wonderful fancy dress
Weird and wonderful food from around the world
Why are you weird and wonderful talent contest (who can stick their tongue out the furthest?!)
Pictures that will shatter your sense
Stories that will boggle your mind

There are so many options!
Send photos of your Ripley's Day to .(JavaScript must be enabled to view this email address) with the subject line 'Ripley's Day' to be in with a chance of winning a Trick or Treat box for your class (will contain edible goodies).
The winner will be picked at random by 30 November and delivered before the Christmas holidays.
Ripley's Believe It or Not! Inspiration
To give you an idea of the sort of content Ripley's Believe It or Not! contains, check out these videos:
Jorge Stretchy Skin and Eyepopper guy
Ripley's 2016 annual trailer