The Leading Magazine for Primary Educators
Aladdin Trouble - Out of the Ark Music
Reviewed by: Georgina Bateman
KS: Reception, KS1, KS2
Contact: Visit Website
Print this page

Building on the success of its musical pantomime 'Cinderella & Rockerfella', which has picked up more 5-star reviews than you could shake a magic wand at, Out of the Ark Music has a brand new offering: 'Aladdin Trouble'. And that's just the start of the punnery…
This resource gives any beleaguered Key Stage 2 teacher, ever aware of the forthcoming musical season, a super toolkit that will help everything to run smoothly without too much onerous preparation. The package contains a teacher book, complete with story and song synopses; performance tips; cast list; script; and the lyrics and music for the songs. An accompanying music CD contains vocal and backing tracks and sound effects, whilst a clever CD ROM plays the Words on Screen™ to accompanying music and also contains printable pdfs of the script and lyrics.
Talking of the script - it's well written with the usual pantomime banter, and sure to keep adults and children amused. Much thought has gone into the staging, as shown in the directions and footnotes - I especially like the audience cue cards, designed to maximise participation but maintain flow by keeping it predictable! None of the parts are very big and the scenes are short, so it should be possible for our actors to remember their lines and where they should be. Another nice touch is that gaps are left to be filled in with the names of local businesses or staff, thus giving the play a more personal feel. Like all good school productions there is an abundance of parts should they be required (nearly 60 speaking), however there is flexibility too, with plenty of scope for doubling up if your pool of performers is on the small side.
Alongside the script, there are 11 catchy songs with jaunty rhythms that are fairly easy to sing. It helps that the recorded vocals are performed by children, making it easier for your young cast to emulate. There is plenty of scope for group singing as well as the obligatory solos and duets; I like the suggestions for activity on stage throughout the songs to build the atmosphere and add to the humour. The accompanying CD ROM is a really useful resource for teaching the songs to your aspiring Katy Perrys/Michel Balls. Screen words can be accompanied by the backing tracks with or without vocals, thus making de-scaffolding easy, as confidence grows. Helpfully, the line that is to be sung is highlighted throughout, making it easier to follow along; however it'd be even better if a ball bounced over the line to show exactly which syllable/word should be sung at each point.
The CD also contains the vocal and professional backing tracks, making them easy to play throughout the performance. The good quality, deliberately cheesy sound effects are also located there and well referenced in the script. I really like the flexibility this resource offers in terms of delivery. For example if you have a school orchestra or music group, the music is provided in a relatively simplified form to allow them to accompany some or all of the backing tracks, however, if you don't, the performance will work without.
So what do you need to prepare? Well the staging, costumes, physical props and programmes are up to you, but there are plenty of ideas contained within the teacher's book to keep them simple but effective and minimise time and energy spent setting it all up.
The show must go on!
Overall 'Aladdin Trouble' is a comprehensive package that will practically guarantee a standing ovation, regardless of how experienced your direction and production teams are. Have those talented folk at Out of the Ark done it again? Oh, yes they have!
Send to Kindle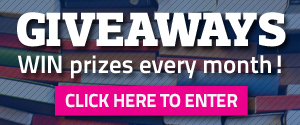 Subscribe NOW!
Issue 8.5 of Teach Primary is out now!
Subscribe today and get a FREE Book Bundle from Award-Winning Publisher Nosy Crow!*
Subscribe