The Leading Magazine for Primary Educators
Discover the latest from the world of education
Transform A Classroom To Take Your Creative Writing To Exciting Places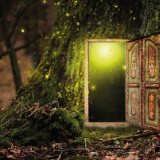 Main Subject: open
Subject:
Author: -
Send to Kindle
Do your literacy sessions allow breathing space for creative thinking? Derailing your proscribed plan can take your class – and their writing – to exciting places
It was a bitter, moonless night in the winter of 1867 when Miss Martha Tooth made her unexpected discovery: a wooden crate, stranded in the foaming surf of Brighton beach. Across the dark shingle she hastened, her sharp eyes picking out the print branded across the slats. 'Dangerous', it read. Under a heavy beach stone the creaking wood gave way to reveal eight green and pearly eggs. It would be three nights before they were to yield the fire-breathing, fork-tailed, fine-feathered beasts within.
Aaaand you're back in the room. A classroom at Whitehawk City Academy in Brighton to be exact. This 'good' school – in a suburb listed among the bottom 5% of the country's most deprived areas – faces the kind of challenges that interest writing charity Little Green Pig. Funding from the Goodall Foundation has enabled the charity to transform one of the Academy's classrooms into an 'immersive learning environment' designed to inspire the imagination of both pupils and staff.
"We asked the school what challenges they were working with and one of their aims was to give the children a really rich, imaginative experience," says Ella Burns, director of Little Green Pig. "Quite a lot of them don't have those experiences in or out of school." The concept – a long-forgotten pet shop for mythical creatures within the school grounds – was brought to life for pupils and their teachers through a series of workshops led by local author Ed Hogan, a professional illustrator, and Ella's team of writing mentors.
The transformation
To crystallise a visual theme, Little Green Pig called in Sherlock, a local design agency and regular collaborator willing to mix lucrative work for major supermarket chains with more creatively-stimulating charity gigs. "The design brief was that there had to be enough that the kids 'got it'," says designer Rich Ford. "We needed to give them the sense of a shop selling mythical creatures but we didn't want to do the thinking and imagining for them. It was important that they got in there and started to create their own ideas in the space." A slick and coherent design concept from Sherlock saw stencils of apothecary-style bottles fill the space with the illusion of stocked shelves; clusters of smartly-labelled tubs and tubes give the children something to reach down, open and smell. Scratchy and fragrant straw bales create rustic seating and sensory flooring; soft light seeps from Kilner jars packed with fairy lights while motion trip sound sensors release eerie cries, and scuttling bugs scratch around in cardboard boxes. "Amazon's great for those kind of things," says Rich.
The workshops
"It's a really sensory workshop," says Ella. "The main focus is on writing but as the children enter the room there's music, there are sound effects, bottles to smell, things to feel. We're inviting them in to explore the space. The children come in with their whole class, we have a workshop leaders and also volunteer story mentors who work with small groups of four or five. KS2 worked collaboratively to write the beginning of the story together, the middle section in groups and then they'd write the ending individually. By the end of the process each child will have their own book – with pictures by our illustrator – which we'll deliver back to them."
"The children love coming into a space that's nothing like a classroom," says Ella. "It's not like school for them – they walk in and it's dark, there's hay and straw everywhere, it smells. On every sensory level it's very different to their normal learning environment and I think they respond to that."
And as in more affluent areas where such extra-curricular experiences might be more familiar, the reactions are mixed. "I'd says age is a bigger factor than social issues," says Ella. "Y6 love the experience but slightly question the reality of it. Y4 and below completely believe in the whole story. We've often found it's the children who conventionally don't do well in the class environment who do well in a different environment."
The impact
"The workshops have been fantastic," says Lisa Spense, Y6 teacher and writing lead at City Academy Whitehawk. "I can't praise the experience highly enough. Every single class has thoroughly enjoyed it. They were inspired to write during the sessions but also when they left. And they continue to write; the Tooth & Claw idea has gone into lots of writing sessions on the back of the workshops."
Lisa continues, "It's a magical space. It's nice to have something so different happen, and to gain a room in the school where you can take children who struggle with being in the classroom. My Y6s – who are starting to feel the pressure – visibly relaxed when we went in. That impacted on how well they write."
Sustaining this effect, and encouraging a long-term improvement to children's engagement and attainment, is also on Lisa's radar. "Sustainability was something that was really important to us when we set up the project. Of course it's lovely when people come into the school, but there's a limit to the impact they can have with one workshop." The room remains though as a bookable space so teachers can plan a unit around the project and go in as often as they like while teaching it. "We'd like to produce a bank of planning so staff can use the project across the whole curriculum, not just as a writing space," Lisa says.
The debrief
"Something to think about when we come to evaluate the project is factoring in some planning time for teachers at the very beginning of the project," says Ella. Teachers at Whitehawk were deliberately kept out of the loop as the store was conceived and installed. "Some teachers roll with it and are fine. Others who are less confident in working that way might need some extra help. So rather than them having to go off and plan, it would be good to get that sorted beforehand. This would mean it wasn't an extra thing they have to do, but would instead empower them."
"I think that's a very fair comment and definitely something we'd need to consider if we were doing it again," agrees Lisa. "Knowing what was going to be involved beforehand would have helped our teachers plan where to take the work beyond the workshop, but working with Little Green Pig, we knew we'd get a really immersive experience and we wanted the teachers to experience that too for their own CPD. And it was great for the children to see them experience it for the first time – they all discovered it together."
Send to Kindle