The Leading Magazine for Primary Educators
Discover the latest from the world of education
5 Ways To Celebrate World Book Day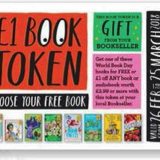 Main Subject: open
Subject:
Author: -
Send to Kindle
The world's biggest celebration of reading for pleasure returns on Thursday 1st March and there's plenty of ways to get involved
1. Hand out your book tokens
Let your pupils and their parents know what the token is for and how to use it. There is a wide range of special £1 books to choose from this year, and the tokens are accepted in thousands of independent bookshops, plus Waterstones, WHSmith, Asda, M&S, Morrisons, Sainsbury's and Tesco stores. Last year, over 1.2 million tokens were redeemed, enabling one in three children receiving free school meals to 'purchase' their first book of their own.
2. Share a story
Share a story This year's theme is 'Share a story'. Why not organise your own event by inviting in parents, grandparents, carers or older ••Iii pupils to read stories in class? Download the online Share a Story toolkit from worldbookday.com/resources to get more ideas.
3. Watch The Biggest Book Show On Earth
An exclusive 30-minute online version of this bumper books extravaganza, featuring stellar authors and illustrators, will be available to download to watch in your setting. Sign up at worldbookday.com/videosjbiggest-book-show to enjoy Chris Riddell, Cressida Cowell, Andy Stanton, Kiran Millwood Hargrave, Julian Clary and Steven Butler share a story with you from the comfort of your classroom. An Illustrator Extravaganza will also be available with Alex T. Smith, Lydia Monks, Rob Biddulph and Sophy Henn.
4. Raise money for charity
Last year, over £650,000 was raised for charities including Book Aid International and Read Well. Encourage children to donate £1 to dress up as their favourite book character. For every £2 donated, Book Aid International can send a new book to a library or school in Africa. Find over 40 simple dressing up ideas, face painting tips and step-by-step costume guides at bookaid.org/worldbookday
5. Downloadfree resources
Go online to get free lesson plans created by the National Literacy Trust, a new assembly plan, fun quizzes and more. Find them at worldbookday.com/resources
Send to Kindle