The Leading Magazine for Primary Educators
Discover the latest from the world of education
SEN Assist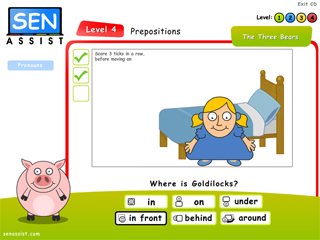 Posted: 31 Oct 2011
Print this page

SEN Assist is clever NEW interactive storybook software designed by SEN teachers to include EVERY child in the Literacy hour.
(KS1/EYFS and SEN). SEN Assist is based on practical classroom experience. Designed to differentiate for ALL children no matter what their ability, language or learning style.

• Language is taken from the National Curriculum first 100 H/F words.
• The writing is animated with associated symbols (ideal for including visual learners such as those with autism)
• 24 games on each CDROM designed for language development: Matching, Sequencing, Spelling, Comprehension, Prepositions and Pronouns.
• 4 different ability levels and individual certificates to raise self esteem.
• Printable speech therapy resources and masks for role play.
• Created by teachers to save time, differentiate and include EVERY child.

'SEN Assist has been fabulously motivational for my KS1 group of children; they loved the control of choosing their own character and the knowledge that they could make it move by completing their tasks. The children love to interact with the computer and, as the layout is so clear and concise, they are constantly learning.' Vanessa Whitney, Step Gates primary school
Individual CDROMs are just £24.50 or buy all 6 stories for £99.
For more information and sample activities please visit http://www.senassist.com
FREE animated Christmas Story and resources available by clicking here.
http://www.senassist.com/nativity.html
.(JavaScript must be enabled to view this email address) 01276 502422