The Leading Magazine for Primary Educators
Discover the latest from the world of education
Paul Durham - The Luck Uglies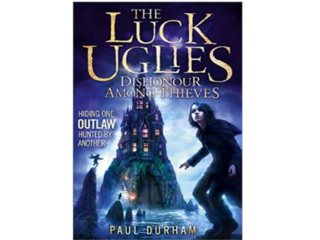 Posted: 02 Apr 2015
Print this page

Dishonour Among Thieves
The legendary Luck Uglies are the most deadly, dangerous band of men Riley O'Chanter has ever met - and her father, Harmless, is their high chief. Having been in exile for ten years the Luck Uglies are back in Village Drowning, but bringing them out of the shadows and back together has thrown up new dangers. There is bad blood between Rye's father, and a sinister masked man names Slinister Varlet. As Harmless and Slinister vie for control of their men, Rye finds herself caught up in their dangerous game. Throw in vengeful son, a dark curse, and a collection of thieves and smugglers and the stage is set for another page-turning adventure.
-Enter a world of secrets and adventure in the second book in the immersive adventure-filled series from the phenomenal writing talent, Paul Durham.
- Book 3 coming in Spring 2016!
"The Luck Uglies has it all: a feisty heroine, monstrous creatures, and a brimful of humour, and horror, to keep readers turning the pages." Joseph Delaney, Author of the Spook's Apprentice series
"Everything I look for in a book."
Cai, age 11
"Made me stay up too late reading because I was so gripped… impossible to put down! Overall a great read and would definitely recommend this to anyone, it's that good!"
Joel, age 12
"Amazing! If I hadn't had to sleep I would have read it in one go."
Bill, age 12
Excellent. Really fun to read"
Louis, age 12
WIN 1 of 1,000 copies, read more here!
www.pauldurhambooks.com/index.ht
twitter.com/@pauldurhambooks
www.facebook.com/pauldurhambooks
www.facebook.com/harpercollinschildrens?fref=ts