The Leading Magazine for Primary Educators
Discover the latest from the world of education
No splashing, no liquid, no bad smells!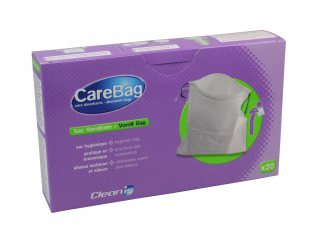 Posted: 26 Sep 2016
Print this page

CareBag Vomit Bags with Super Absorbent Pads are an essential item for any school.
"These bags are vital in our school medical room. The plastic is thick and strong giving confidence that they will not leak any fluid. Once the strings are pulled at the top, it forms a very tight closure and any smells are contained within the bag. The absorbent pad works really well in soaking up excess liquid." Annabel Major, Medical Room, Harewood College.
The hygienic bag with drawstring tie is equipped with a super absorbent pad which turns 450ml of liquid waste into a gel whilst locking in the unpleasant odours.
Key Advantages:
• Neutralises bad odours
• Easy to use by all age groups
• Prevents splashing, allowing for easy clean-up
• Protects surrounding areas such as classrooms, receptions and medical rooms
• Offers discretion to the user during what can be a highly uncomfortable situation
• Securely collects vomit allowing for easy disposal
The CareBag Vomit bag is not only ideal for stocking on school premises. It is also an essential item for taking on school trips, particularly those that require coach travel when children may experience travel or motion sickness.
Eureka Schools are the UK's exclusive supplier of the CareBag VOM bag and have already supplied over 8,000 schools in the UK with this must have item for school medical rooms, receptions and classrooms.
Visit www.Eureka4Schools.co.uk today and search 'VOM1'. Alternatively call us on FREEPHONE 0800 358 0085 to order via our experienced and friendly customer care team. We offer FREE DELIVERY on all orders, so contact us today to order your schools CareBag Vomit Bags.