The Leading Magazine for Primary Educators
Discover the latest from the world of education
Create everything from quiet corners to outdoor play areas with Kiddi Train Space Dividers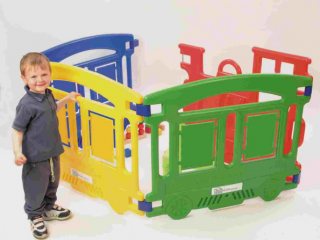 Posted: 09 Jun 2017
Print this page

An easy way to customise the space in your early years setting
Addgards Kiddi Train Space Dividers are perfect for creating specific play or activity areas for kids. The Dividers are designed to be durable and maintenance free for use in a busy childcare environment.

The resource is supplied in sets of four panels with an engine and three carriages. Extra carriage panels can be added with the Addgards patented hinge to create any size or shaped play area.

The panels are bright and colourful and are easy to clean. They will fold away for easy storage and can also be used outdoors. The Dividers are safe and comply to BSEN 71-1:2011.

There are a range of accessories such as wall posts, gates and foot bases.

The dividers are ideal for creating a quiet area, reading corner, messy space or an enclosed outdoor play area. They can be folded away when not in use and stored indoors or outdoors.
Find out more at the Addgards website.