<
The Leading Magazine for Primary Educators
Discover the latest from the world of education
Watch The Illustrators Takeover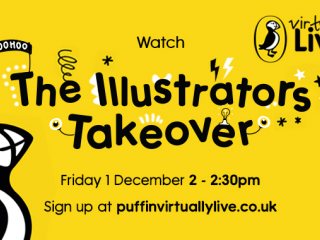 Date(s): 01 Dec 2017
Print this page

Imagine if you could have an art lesson from the best illustrators in the business
Tune in to the last Puffin Virtually Live webcast of 2017 for a spectacular drawing masterclass. By the end of the show your class will have created their superhero and sent their new character on a mission to change the world.
In fact, they'll have everything they need to start their next story.
To sign up you just need to enter your email address at puffinvirtuallylive.co.uk.
The line-up
Draw-along with Adam Hargreaves – son of Roger Hargreaves, who continues his father's popular Mr. Men and Little Miss series of children's books, and this year has illustrated the Dr Men series
Get a taste of life as an illustrator from Nadia Shireen, picture book mastermind behind BumbleBear
Create comic book characters with Jeff Kinney, author and illustrator of Diary of a Wimpy Kid
Unleash your inner superhero with Ali-A, who's been inspired by his new graphic novel Game On!, illustrated by Alek Sotirovski
Discover the power of a pencil to change the world in Malala's inspiring new picture book, Malala's Magic Pencil, illustrated by Kerascoët
Lesson plans created in partnership with STAEDTLER, coming soon…
To find out more about this event go to puffinvirtuallylive.co.uk/author/theillustratorstakeover17.