The Leading Magazine for Primary Educators
Discover the latest from the world of education
Help Pupils Tell Fact From Fiction In The Digital World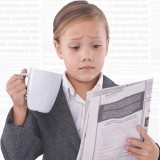 Main Subject: open
Subject:
Author: Jonathan Douglas
Send to Kindle
Equip your pupils with the critical literacy skills they need to spot 'fake news'
Children growing up today are surrounded by digital technology. Whether they're reading a book on a tablet, using an app on a smartphone or doing their homework on a computer, technology is embedded in every part of their lives.
Digital technologies offer a raft of new learning opportunities for children, but as these new technologies evolve and become an even bigger part of their everyday lives, we must consider whether children have the skills they need to navigate the potential pitfalls of the digital world.
One such pitfall is fake news. Fake news is already having a huge impact on children's lives, with research showing how it distorts their view of the world and leads to increased levels of anxiety. More widely, it also has the potential to threaten democracy, our confidence in governance and trust in journalism.
Critically literate
The rise of fake news reminds us that, in a digital world, we can no longer take everything we read, hear or see at face value. Children are increasingly likely to encounter fake news, with more young people than ever using digital media as their main source of news. Children who can't question and determine the reliability of the information they find online will be hamstrung - at school, at work and in life.
Teachers can be instrumental in ensuring children have the critical literacy skills they need to tell fact from fiction.Yet while critical literacy skills are part of every stage of the national curriculum in England, a new report from the National Literacy Trust shows that children are struggling to transfer what they've been taught to everyday life. Some 20% of children aged 8-15 believe everything they read online is true and 35% of UK teachers say pupils have cited fake news or false information found online as fact in their work.
Reading comprehension, a big part of the KSl and 2 curriculum, is particularly important for preparing children to become critically literate. It helps children accurately understand and interpret information by making connections between what they read and what they already know, working out what is important, and spotting the difference between fact and fiction.
Other curriculum areas across KSl and 2 help children build the foundation skills they need to develop strong critical literacy, such as reading a wide range of texts for different purposes, learning about inference, and identifying how language structures and presentation contribute to meaning.
Discuss and evaluate
Children need to be able to take what they learn in the classroom and apply it to real-life situations. With fake news being such a big threat to children's lives, and also such a topical issue, bringing it into the classroom will give teachers the opportunity to further develop their pupils' critical literacy skills, as well as give children the chance to discuss any news stories that worry them in a safe environment.
As part of the KS2 English curriculum, pupils should be given a range of opportunities to develop their critical thinking skills in response to different texts. Teaching your pupils to identify fake news will give them the opportunity to ask questions to improve their understanding, discuss and evaluate how authors have an impact on the reader, and distinguish between statements of fact and fiction.
We've created some great free teaching resources, linked to the KSl and 2 curriculum, to help you introduce your pupils to fake news. Here's a sneak peek. ..
Shared definition
The best way to introduce fake news in the classroom is to explain what it is. Your pupils will probably have a mixed understanding of fake news, based on their own personal experiences, so it's really important to create a shared definition. This will help pupils discuss fake news and identify it appropriately. Here's our definition of fake news.
Fake news is news or stories that are not true. It is published on the internet, in newspapers, on the radio and shown on TV to mislead people. Fake news stories often have shocking, exaggerated or false headlines to grab people's attention. Some websites make up fake news for fun, but other websites have bad intentions, such as trying to make people vote in a particular way in an election or trying to change your opinions about a person, place or product. The internet means that fake news can be spread very quickly through the use of fake news websites and social media.
Explore the topic in your classroom with these activities:
• Create a class definition of fake news by asking pupils to share words and phrases they think about when they hear the term 'fake news'
• Create a fake news glossary that includes words that may be unfamiliar to pupils, such as 'biased', 'trustworthy', 'sinister'or 'exaggerated'
• List all the different places where pupils get their news from, eg newspapers, websites, social media, magazines, TV and radio. Read the list out loud and get pupils to clap if they trust that news source. When you have your list of the most trusted news sources, create a trusted places display in your classroom, library or computer suite
Distorted view
Fake news can have a damaging effect on children, with research showing it can distort their world view, leading to increased anxiety. It is therefore unsurprising that many children are too embarrassed to admit they have fallen for a fake news story. It is important to create a safe space for pupils to discuss their experiences openly and share how they feel about them.
• Create a 'Real of fake?' display in the classroom and ask pupils to add to the board every time they have read or heard a piece of interesting real or fake news. They could write down any questions or feelings they may have about the story on a post-it note and stick it on the article or the display
• Have a daily or weekly discussion about a story in the news that has caught your pupils' attention. Ask them to think critically about the story: what is the journalist's motivation? Who is the intended audience? Does this change the way you feel about the story?
• Create a news worry box for pupils to share their concerns about fake news. Speak to the child individually and/or discuss as a class during circle time
The full teaching resources were created for the launch of a new parliamentary commission which, over the next year, will look at the impact fake news has on children and young people and explore how the skills needed to identify it are being taught. The All-Party Parliamentary Group on Literacy, led by the National Literacy Trust, will make a series of recommendations to the government and the education sector in 2018 that will put critical literacy at the heart of the national curriculum.
Jonathan Douglas is director of the National Literacy ' Trust. Download free teaching resources and top tips for spotting fake news at the below website. literacytrust.org.uk/fakenews
Send to Kindle