The Leading Magazine for Primary Educators
Discover the latest from the world of education
Fundraise with Personalised Christmas Cards and Calendars for Schools and Nurseries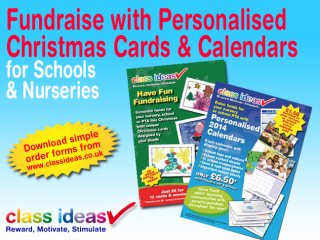 Posted: 03 Oct 2013
Print this page

Fundraise with Personalised Christmas Cards & Calendars For Schools
With Class Ideas

Personalised Christmas Cards with Class Ideas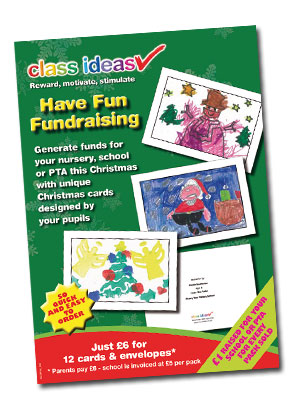 Give your school children that sense of achievement by granting them the opportunity to design their very own Christmas card.

The process is simple and easy and is designed to take up the minimum of your school's resources. This results in your school benefitting from the scheme while having to do very little. Each personalised card features the child's design on the front and their name, age, class and school on the back. The inside is left blank. Order before 15th November 2013.

Sell for only £6.00 for a pack of 12 cards and envelopes and £1 is donated to your school for every pack sold.
Visit http://www.classideas.co.uk to find out more about our personalised Christmas Cards and download the simple order form or phone: 0800 028 0785
Personalised 2014 Calendars with Class Ideas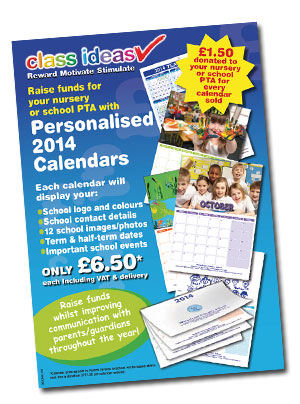 Give parents and guardians a beautiful way of remembering school appointments, term times and your contact details with personalised calendars for 2014. And in the process fund-raise £1.50 for every calendar sold.
These superb calendars, designed specially for schools, are pre-printed with your term dates and other confirmed event dates and holidays, so parents/guardians can easily plan their year within the school term dates. In addition the calendars are personalised with your school logo, name, address, telephone, email and website; so your contact details are easily on hand throughout the year. Order before 15th November 2013.
Sell for only £6.50 per calendar and £1.50 is donated to your school for every calendar sold.
Visit http://www.classideas.co.uk to find out more about our personalised Calendars and download the simple order form or phone: 0800 028 0785