The Leading Magazine for Primary Educators
Discover the latest from the world of education
Memories for life, skills forever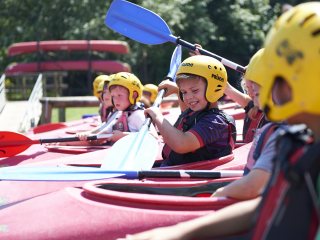 Posted: 01 Oct 2014
Print this page

Outdoor education programmes in the eastern region and beyond.
Supporting schools in the delivery of their outdoor education requirements, Essex Outdoors is a leading provider of outdoor education programmes - and is now taking bookings for its affordable and adventurous range of activities in 2015.
From a one day multi-activity day to 5 night/4 day residential programmes, Essex Outdoors has four centres which can provide over 30 activities in a fun, safe and challenging environment.
Supporting the National Curriculum
From archery and canoeing through to quad biking and zip wire, all of the activities are delivered by a team of friendly and qualified instructors. Many can be tailored to support National Curriculum requirements such as PE, history and science. In addition, all of the programmes are beneficial for children's physical development - as well as broadening horizons, promoting positive values and developing confidence and self-esteem.
Easily accessible centres
Each centre has great transport links to London and the Eastern region, making it an ideal location for schools to satisfy their outdoor education and activity requirements in a variety of settings including woodland, urban and coastal. Centres include:
Danbury: Set within 70 acres of prime Essex countryside, this centre offers residential and day visits and provides action-packed activities, including mountain biking, climbing and canoeing.
Bradwell: Powerboating, Keelboating, Dinghy Sailing or Catamaran Sailing, along with a range of land based activities, can be experienced at this residential centre based on the coastal.
Harlow: Located on the River Stort, this urban day centre provides water and land activities and is also home to Essex's premier indoor climbing centre - The Lock Climbing Wall.
Mersea: Situated in 62 acres, this is Essex Outdoor's largest centre and provides exciting and challenging outdoor activities, while accommodating visitors in tents, cabins or in its brand new residential centre.
Find out more
To organise an outdoor education visit to Essex Outdoors or for more information, visit essexoutdoors.com, call 0845 200 4220 or email .(JavaScript must be enabled to view this email address).