The Leading Magazine for Primary Educators
Discover the latest from the world of education
Better value CPD Courses from YPO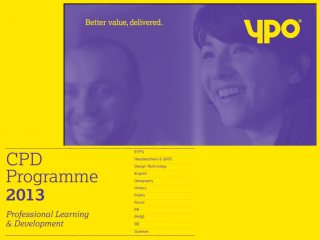 Posted: 07 Aug 2013
Print this page

Book accredited courses with nationally renowned tutors and receive a voucher back to spend with YPO.
As a highly experienced CPD course provider with nearly 20 years experience, we understand how changes and developments in the curriculum and government's agenda impact on the training needs of schools at YPO. With this in mind, we continually develop our course programme to provide courses which reflect contemporary classroom training requirements.
Hosted at venues across the country including London, Birmingham, Sefton and Wakefield, our expert tutors are nationally renowned in their field, ensuring you receive the highest standard and quality of training. Courses cover a wide range of areas including:
Early Years Foundation Stage (EYFS)
Head teachers and Senior Management Teams (SMTs)
Design Technology
English
Geography
History
Maths
Music
Physical Education
PSHE Education
Religious Education
Science
Upon completion attendees receive a certificate to evidence their personal and professional development targets.
A large proportion of the course cost is also returned in the form of a voucher to spend on products from YPO, meaning schools receive even better value for money.
What our course attendees say
93% of delegates from our 2012 courses rated them as very good or excellent.
"I feel genuinely inspired to take new practical ideas into the classroom. The best course I've attended." Teacher – Hinchcliffe Hill J&I School
About YPO
YPO supplies public sector organisations with products and services from leading suppliers. 100% publicly owned, our profits are reinvested back in the public sector to deliver even better value.
For more information on upcoming courses or to discuss how YPO could help you with your training needs please visit www.ypo.co.uk/cpd or call 01924 834849.