The Leading Magazine for Primary Educators
Discover the latest from the world of education
Hot Products don't get any hotter than this!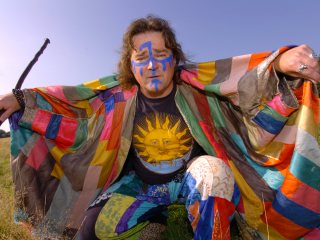 Posted: 31 Mar 2014
Print this page

Just returned from his seminar How To Enchant and Enhance Learning Through Inter-Active Storytelling at the 2014 Education Show!
Author Adrian Beckingham is this year celebrating his 20th anniversary as a professional storyteller. Known as The Man from Story Mountain he has toured over 400 schools, with other clients including flagship educational venues such as the prestigious British Museum, Barbican Children's Library, and The National Trust.
Teacher Insert training sessions
Full school assemblies
Year group activities
Individual class sessions
Inter-Active Storytelling, Creative Writing, Dance, Art, Music, Habitat Survival Skills, Tipi Hire
Aboriginal Dreamtime. Yanomami of the Amazon. Ancient Egypt. Native American. Norse Viking. Pirates. And so much more…
At a price you can happily afford.
Quote 'TeachPrimary20' for a 20% discount (daily fee becomes £250 plus travel)
But don't just listen to us. Here is what others say:
"I was very impressed by what I saw at St Osmond's Middle School. Mr Beckingham's anti-bullying literacy project clearly encourages a culture of respect and good behaviour – and it was also clear that the pupils were thoroughly engaged with this project and enjoying themselves as well as profiting from it. That is a happy combination!" Oliver Letwin MP, Minister for Government Policy in Cabinet.
"I would like to thank Mr Beckingham for being such a huge inspiration, both to pupils and staff. When he is speaking you could hear a pin drop, even for presentations that last up to an hour in a hall filled with close to 200 children. And when Mr Beckingham allows them to talk while working to task, it is positive noise, with the children always working constructively together, with great results. Together with our neighbouring school Bishop Tufnell Infant, we have hired Mr Beckingham every year since he first visited us over a decade ago." Mrs Limbrick, Assistant Head at Bishop Tufnell Junior School.
"We have had Mr Beckingham come in to teach a wide range of activities over the years, from survival in the Australian desert or the Amazon rainforest, to stories from the Caribbean, Ancient Egypt, and Norse Vikings. For Book Week he taught hundreds of children to create interactive storyboards, with groups of 185 children at a time, and every child successfully completed a workable story draft within the very short 45 minutes allocated. I have already booked him to come back in June for Native American stories, combined with a workshop in Native American art." Miss Thurston, Year 4 Group Leader.
Earth Creation Tales
This ebook is the most comprehensive anthology of earth creation tales by indigenous peoples ever produced - uniquely endorsed and including a chapter by Survival International, the world's only global charity working exclusively to protect indigenous cultures. Enjoy here a rare collection of tales from the firesides, carried across thousands of years of oral tradition, about how our world was made. It tells the beginnings of the first rivers, mountains, forests, valleys, oceans, stars, sun, moon, animals, and people

https://www.smashwords.com/books/view/305444


The Man From Story Mountain website offers a comprehensive list of the many cultures we tell stories from. And Outdoor Activity Co-ordinators, don't forget to take a look at our full scale Native American Tipi
http://storymountain.eu/
Email: .(JavaScript must be enabled to view this email address)
Website: http://storymountain.eu/
Landline: 01460 30766 (short but works!)
Mobile: 07874304386
Twitter