The Leading Magazine for Primary Educators
Discover the latest from the world of education
RICK RIORDAN STORIES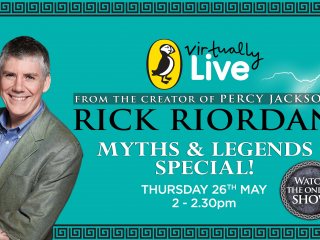 Date(s): 26 May 2016
Region: 2.00 – 2.30pm
Venue: Watch with schools around the world!
Print this page

Join bestselling author Rick Riordan for a show all about the Myths and Legends, which inspired his Percy Jackson stories and many more. You'll learn about the tangled web of the Greek Gods, join in a gladiatorial draw-along and experiment with ways to use horrible histories as a launch pad for creative writing. Plus, there'll be an EXCLUSIVE reading from Rick's new book, a top trumps quiz and all your questions answered.
The Greek Gods are alive and kicking - here's what you can look forward to:
• Your class's questions answered by Rick Riordan – send them in by 10th May
• A monstrous draw-along
• An exclusive first reading from Rick Riordan's new book starring Percy Jackson, The Trials of Apollo (out now!)
• A mythical quests quiz
Register your school for the event here: puffinvirtuallylive.co.uk

Subscribe Today!
FREE* Phonics & Grammar Book Bundle from Jolly Learning
Subscribe