The Leading Magazine for Primary Educators
Discover the latest from the world of education
Puffin Virtually Live – Terry Pratchett Day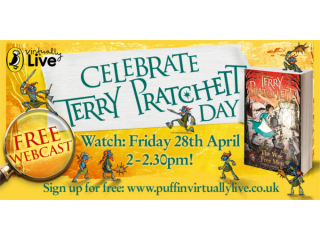 Date(s): 28 Apr 2017
Region: 2.00 – 2.30pm
Venue: Online, in your classroom, library or school hall!
Print this page

Sign up to watch a special show to mark Terry Pratchett Day on 28 April from 2pm
Join authors Robin Stevens (Murder Most Unladylike), Dave Rudden (Knights of the Borrowed Dark) and Jennifer Bell (The Uncommoners), as well as Terry Pratchett's right-hand man Rob Wilkins.
Your class will learn all about Terry Pratchett's remarkable imagination and writing process, plus find out top tips for creating their own magical worlds, as well as the first Puffin Virtually Live draw-along of the year.
Sign up here to watch the show, find out more on Twitter at @PenguinSchools and get your class ready for Terry Pratchett Day by downloading our free teaching resources.