The Leading Magazine for Primary Educators
Discover the latest from the world of education
Advertising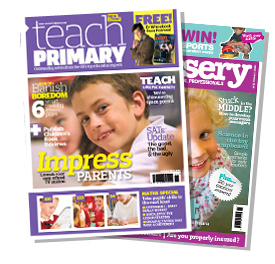 Teach Primary magazine is the leading title for primary educators. We target subject leaders, in their school environment to ensure that your products are seen by those who actively make decisions across the entire school.
Our circulation is over 23,850 in total, published 8 times per year. As a strict business to business publication we target qualifying decision makers within their place of work. 18,000 copies are mailed to subject leaders every issue, along with 5,000 copies being distributed through retail, and 850 to student teachers
We work closely with key trade events, at which we circulate tens of thousands of extra copies. These shows include:
BETT
The Education Show
The Nursery & Primary Show
Education Innovation Conference & Exhibition
…plus many more trade shows and conferences
As a leading publisher for the education sector, we also produce:
Teach Primary proudly works with:
Subscribe Today!
FREE* Phonics & Grammar Book Bundle from Jolly Learning
Subscribe